Customer Reviews
27 Aug 2020
Laura C.
Australia
Amazing service, even better coffee!
I am so glad I stumbled across Coffee on Cue. Not only is it easy to order beans, or sign up to the subscription coffee, but the taste is unbeatable! I feel like I've had a barista made coffee every morning! #obsessed
20 Aug 2020
Zia R.
Australia
I am a super happy customer.
The coffee tastes so good.
02 Jul 2020
Anonymous
Australia
Excellent Arabica, freshly roasted, home delivered - what's not to love?
During these unprecedented times, I have relied on Coffee on Cue for a steady supply of my favourite thing. The Elevate Blend has optimal flavour balance from my morning flat white all the way through to my evening espresso. As a former and aspiring barista and long time Melbourne resident I recommend Elevate Blend to all coffee aficionados!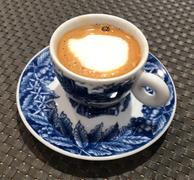 01 Jul 2020
Megan B.
Australia
Fantastic coffee in steady supply!
Subscription to coffee on cue has been perfect, never run short of beans at home! An easy set & forget solution to ensure you'll always have amazing coffee on hand. Elevate blend is spot on. Cheers.
01 Jul 2020
Budiono S.
Australia
Awesome! Great quality great price great service!
Coffee on cue beans are always fresh, quality is excellent! I started with a single bag purchase and ended up with a coffee subscription of 1kg beans each month. Any issue with the ordering system (there weren't many) was promptly addressed. Love it!