Customer Reviews
25 Sep 2020
Anonymous
Australia
Perfect coffee for the home barista!
We keep running out! About to change to fortnightly deliveries to solve this serious problem.
24 Sep 2020
Emad A.
Australia
Great fresh quality product, suitable for milk coffees, this blend tends to be a little too white chocolaty and not fruity enough for my preference but that is subjective to personal choices
I would like for the single origins to be from fruit driven regions and again it is a personal preference. Thank you for your good work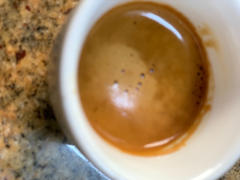 18 Sep 2020
Anonymous
Australia
The staff were very responsive when I emailed for the order I incorrectly made ,
Thanks for being flexible for cancelling subscription as we wanted to taste your coffee first before we commit . We are very happy with our order.
17 Sep 2020
Jodie-Lee P.
Australia
FANTASTIC service and advice.
Highly recommend Coffee on Cue.
17 Sep 2020
Louise P.
Australia
Awesome!
Great product, great price and fast delivery - could not be happier with the subscription!